EcoTest IgM/IgG Antibody Rapid Test Kit
EUA Authorized
Box of 20 Test Kits
Non-returnable item
Included:
20 Test Cassettes
20 Lancets
20 Pipettes
20 Individual Buffers
20 Alcohol Prep Pads
The COVID-19 IgG/IgM (Whole Blood/Serum/Plasma) Rapid Test Device utilizes lateral flow technology that is used for the qualitative, differential detection of both anti-SARS-CoV-2 IgM and IgG antibodies. This test is intended to screen patients for COVID-19. Combining RNA and Antibody tests can significantly raise the sensitivity for detecting COVID-19 in infected individuals.
Coronaviruses are enveloped RNA viruses that are distributed broadly among humans, other mammals, and birds that cause respiratory, enteric, hepatic and neurological diseases. Four viruses – 229E, OC43, NL63, and HKU1 are prevalent and typically cause common cold symptoms in immunocompromised individuals. Three other strains SARS-CoV, MERS-CoV, and SARS-CoV-2 (COVID-19) are can be transmitted from between non-human vertebrates to humans.
This test has been authorized by the FDA under a EUA for professional use.
This product is intended for professional use and not for home use.
Relative sensitivity: 93.7%
Relative specificity: 99.1%
Overall agreement: 97.7%
Clinical Summary of IgM:
FACT SHEET FOR HEALTHCARE PROVIDERS
See the diagram below and detailed COVID rapid test instructions available here.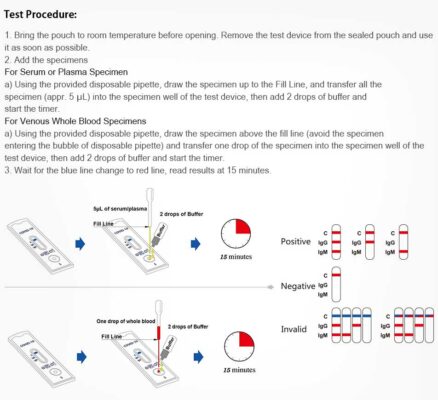 SKU: ATET20